Have you ever wondered why baseball gloves are so expensive? The answer is simple: it's all about the material that goes into it and the brand. The most expensive ones are made of great quality real leather, whereas the cheaper ones are usually made of inferior synthetic materials. Similarly, super-pricey items might actually have a comparable quality with a cheaper one, the difference being the brand.  
You will notice that a baseball glove has a higher quality when the manufacturers and producers use higher-grade leather, a better construction, and a better design. All these characteristics will enhance the durability of the glove and help the ball into and out of the pocket.  The ones with superior quality are usually made of heavy leather that will take some time to break in. Generally, they do not have palm pads and Velcro adjustments. Other options include synthetic leather, softened, oil-treated leather, or lighter leather. 
Real heavy-leather baseball gloves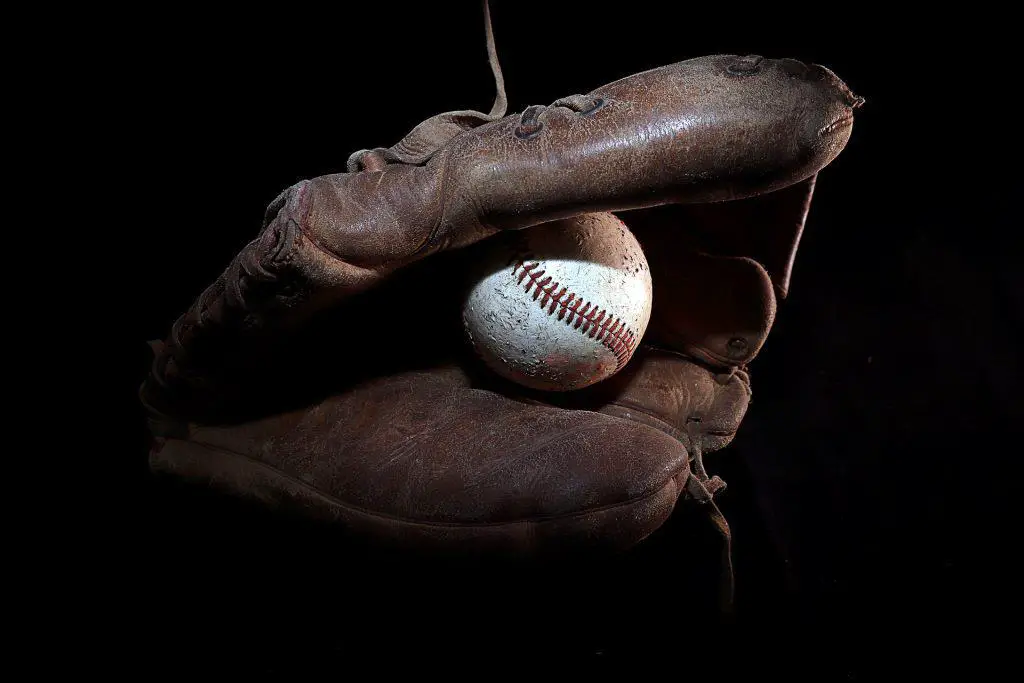 According to Baseball Equipment Guide, professional, experienced players most often choose baseball gloves made of real leather. The type most commonly used is cattle. They might take a longer period of time to adjust, but once broken in, the skin becomes smoother and healthier.
The skin is really firm and hard, but this feature helps the glove provide protection and longevity. These gloves also provide a tighter, more personalized fit for the player.  If you take care of your item, a baseball glove made of real leather might last for several seasons and even get better. 
If, however, you'd like your glove to 
Another reason why leather baseball gloves are so expensive is the complex process of manufacturing. When the skin arrives at the factory, it will be subjected to thorough quality control. Here, it will be color-coded and tested in a power laboratory. According to the results, the protection will be approved or not. Interestingly enough, even after approval, only part of it will actually be used.
Although there is no classical quality control manager to make sure the production process goes smoothly, each craftsman involved in the making controls the quality of his or her own work. The reason manufacturers use this particular system is the high level of personal attention required at every step of the process. 
What are The Lightweight options of baseball gloves?
Synthetic leather is the cheapest option on the market. It has inferior quality and durability but can be just right for amateurs, beginners, or children that are just getting started. This material can be easy to close with no 'break-in' period required. It's a lightweight option that can be a perfect fit for younger players. 
Another lightweight option is the baseball glove made of softened, oil-treated leather. This kind offers an easy break-in and game-ready feel, usually preferred by older baseball players that are moving up in the league. 
The third, lightweight option consists of brighter types of leather. These types are kangaroo and yak skins. The kangaroo skin is thin, firm, and its ability to stretch makes a quick break. The disadvantage is that such flexibility shortens its lifespan. The yak skin is also thinner and firmer. Both of these materials last long and can be smarter choices than the classic, heavy, cattle skin baseball glove.
What is The most expensive baseball gloves?
According to Baseball Equipment Guide, the most expensive baseball gloves are the following:
Rawlings Primo: This baseball gloved, manufactured with two layers of Italian leather, cost around $450. It has strategically placed breakpoints to maximize movement capabilities, absorbs ball impact, and allows you to close your hand easily when the impact occurs. Moreover, it is durable, comfortable, and smooth-looking. 
Mizuno USA: This company has been in the business of baseball gloves manufacturing for over 60 years and their most expensive models rise to the price of $600. They use pre-oiled leather, an 11.5-inch pattern, and high-quality craftsmanship. Their Classic Pro Soft Series model is one of the most popular gloves to date. The model breaks in fairly fast, maintains its form over time, and is very flexible in the fingers due to the throwback leather. 
The Wilson A2K Matt Chapman Game Model: This 11.75-inch baseball glove is manufactured with Pro Stock Select Leather that provides durability and a great feel. It also maintains its shape, breaks in quickly, and has a more stable pocket due to the rolled dual welting and double palm construction. 
Collectors collection gloves are the most expensive gloves on the market and can rise to a price tag of thousands of dollars. Even if they are not in good condition, the price is justified by the fact that they were used by different famous baseball players and have their signatures on it. A Primo glove used by the legendary Iron Horse Lou Gehrig was sold for over $387,000.
What Are The Best Baseball Gloves?
Verywellfit created a list with their best picks of baseball gloves for different categories. Here are some of their recommended products that might help you in choosing the best baseball glove for you. 
The Wilson A2000 Baseball Glove Series is rated as the best overall and provides a great range of high-quality gloves made of high-end and durable leather, perfect for both experienced, adult players, and high school players. Their collection varies in types, sizes, colors, and designs, allowing the players to choose the best model for their needs. It costs around $260. (You can check it on AMAZON)
Franklin Sports Field Master Series Baseball Glove is rated as the best budget baseball glove. It costs around $15-$16, it is made out of synthetic leather and it is a great fit if you are an amateur who loves to play catch from time to time. (You can check it on AMAZON)
Rawlings Players Series Youth T-Ball Glove is rated as the best for Tee-Ball. It is recommended for very young players that are just starting out in the field of baseball. The series has a wide range of colors and designs, has many great reviews by previous customers, is suitable for both right and left-handed, and is particularly inexpensive ($18 – $36) – which is great considering that the young player will soon outgrow it. (You can check it on AMAZON)
How to care for your baseball glove
In order for your baseball to last as long as possible, it's important to take great care of it. It is recommended to avoid repeatedly exposing your glove to moisture and heat. You should not spit in your glove, leave it outdoors, or put it away wet from sweat. You should wear a batting glove under your baseball glove (except for pitchers) at all times because it absorbs the perspiration from your hand.
If the glove becomes wet, dry it using a towel, let it dry it in the room air, and afterward, use a bit of glove conditioner in order to moist the leather. When putting away your glove, place a softball in the pocket, and wrap it with a wide rubber band. 
How to break in a baseball glove? 6 Tips!
To properly break in your baseball glove, you should follow these useful tips recommended by Dick's Pro Tips: 
 Moisten the glove's leather by pouring a modest amount of heated water everywhere, or by applying a little bit  of glove oil with a sponge. 
Make your glove more flexible by bending the pinky and thumb back and forth, and squeezing them together. Push back the fingers down, squeeze the palm liner, and pull the web top to stretch it. The process should be repeated until the glove is dry. 
Make your glove softer by using a wooden mallet or 5 lb. neoprene dumbbell to pound the pocket where you would catch the ball. 
Adust the shape of your glove  by putting a ball in the pocket and wrapping your glove with two to three rubber bands. Allow your glove to sit like this for at least five hours. 
Just play as much catch as possible with your baseball glove on. 
Condition the baseball glove throughout the season by applying a small amount of oil or glove conditioning cream. Also, it is advisable to store your glove inside the house, not in the trunk of your car or in your garage. This way, it will have a longer life and better conditions. 
Conclusion
All in all, whatever baseball glove you end up choosing, make sure it fits your level and particular needs. Sometimes, it's worth investing in an expensive, high-quality glove because it will last longer and improve with time.
However, don't forget to check all the details necessary, the reviews, and other similar options on the market. It might be fun to own a trendy glove and impress everyone on the field but don't let yourself be fooled by the brand. Ultimately, it comes down to the quality, and most often you will find great options for baseball gloves at a much lower cost than the most popular ones.
To be sure you make the best decision, don't shy away from consulting with your coach, other professional, more experienced athletes, famous experts in the field, and trustworthy publications.